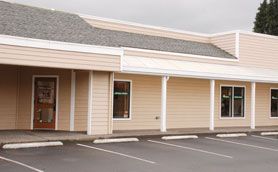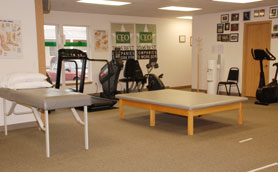 "Everyone I have worked with has been wonderful. Even on my bad days they stay right with me and helped me more than they know. NorthSound Physical Therapy will have my recommendations anytime anyone asks. Thank you!"
Staff
John Bielser, PT, Co-Owner

John has been with NorthSound Physical Therapy since 1996. In 1998, John became a practicing owner in the Marysville location of NorthSound Physical Therapy. Since graduating from Eastern Washington University in 1989, John has gained experience treating a wide variety of musculoskeletal and neuromuscular disorders. He works with athletes throughout the area  high schools, youth sports and colleges. John's dedicated work in outpatient orthopedics over the years has made him a very highly respected physical therapist in the community. John enjoys family outings, attending his children's games, and travel with his wife Julie, son Karl and daughter Sevi.  John also stays busy with coaching youth basketball, attending high school and college sporting events, golfing, biking and walking.
Ryan Appell, DPT

Ryan began working with NorthSound Physical Therapy in November of 2012. He is a graduate from Gonzaga University in 2008 with a Bachelor's degree in Exercise Science, and from Regis University in Denver Colorado in 2011 with his Doctorate in Physical Therapy.
Ryan has extensive training in the treatment of chronic pain and has a special interest in the research surrounding this area. His treatment approach involves teaching novel active movement strategies to relieve tension in combination with gentle hands-on techniques to help patients in pain move with more ease.
Ryan is an avid college basketball fan (Go Zags) and enjoys running, hiking, fishing, and really spicy food.
Tony Travanti, PTA

Tony joined the NorthSound Physical Therapy family in September 1999. He is a graduate of Whatcom Community College with an Associate of Science degree. Tony is a licensed physical therapist assistant and has been recognized by the American Physical Therapy Association, qualifying for their Advanced Proficiency in Musculoskeletal Physical Therapy Achievement.  Tony was born in North Dakota, but has lived in the Puget Sound area for the majority of his life. He enjoys hiking, snowshoeing, and camping and feels like the Northwest provides immediate access to all of those activities.
"I became interested in the field of physical therapy after dealing with personal sports injuries, playing soccer and baseball in high school. Outside of that, I knew I wanted a job that would provide opportunities to make a difference in the quality of people's lives."
Kandace Ackelson, PTA

Kandace began working with NorthSound Physical Therapy in January of 2011. She is a graduate of Whatcom Community College with an Associate of Science degree. Kandace is a licensed Physical Therapist Assistant and is the lead for NorthSound Physical Therapy's aquatic therapy program. Kandace is a licensed Physical therapist Assistant, and is also a certified lifeguard and water fitness instructor.
Kandace was born and raised in Bellingham, Washington. She spent 6 years as a lifeguard swim instructor for Bellingham's YMCA. She also spent 10 years as an Irish dancer, traveling the world and even became World Champion. Kandace's hobbies include swimming, rollerblading, dancing and drawing.
"I became interested in physical therapy after my ankle injury and after my wonderful experience with my physical therapist. Nothing fascinates me more than the human body. I absolutely love my job!"
Daniela Gonzalez, PTA
Address
Marysville
9516 State Ave Ste B
Marysville, WA 98270
Phone: 360-658-8857
Fax: 360-659-8296
Directions