"I like being able to go to a local, neighborhood clinic with people I know and trust."
Hours
8:00 AM – 7:00 PM
Closed from 12 – 1.
*Earlier hours available upon request.
We are open Monday – Friday.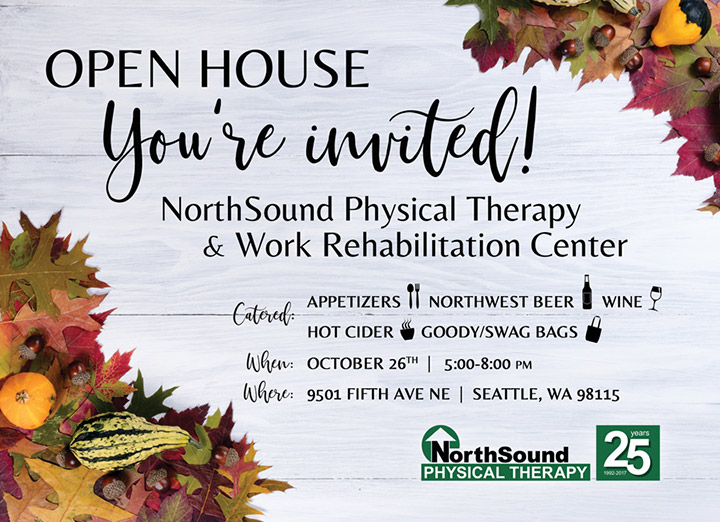 ---
Staff
Cody Finks, DPT

Cody moved to WA in 2015 from Knoxville, TN. He earned his DPT from the UT Health Science Center in Memphis in 2013. Part of what drew Cody to the Pacific Northwest was the active lifestyle. He spends his time with his wife, daughter, and dog Zoey. They enjoy walking around Greenlake, camping, playing basketball, snowboarding, and crabbing. After undergoing his own shoulder surgery in high school, Cody found a passion for helping others heal and return to the activities they love.
Anne Lyons, MSPT

Anne has a degree in Physical Therapy from the University of Michigan and a Masters in Rehabilitation Medicine from the University of Washington. Anne has comprehensive training in the treatment of orthopedic issues and extensive experience in rehabilitation and neurology during all stages of life. She enjoys assisting everybody as they return to their individual movement potential. Anne's interests include reading, travel, cooking, baking, gardening, hiking, and swing dancing with her husband. They live in a small house with a big yard and their furry companions and enjoy visiting with family and friends.
"Life is like riding a bicycle. To keep your balance, you must keep moving." Albert Einstein
Megan Finks, OTR/L

Megan grew up at Lake Goodwin near Stanwood, and completed her MOT degree at the University of Tennessee in 2013. She realized she wanted to be an OT while working as an aide at an industrial rehab facility many years ago. After having skilled nursing and hospital experience, she thrilled to be back in the work injury setting. Megan spends her time with her husband, daughter, and boxer. She enjoys skiing, hiking, soccer, and being on the boat.
Meghan Lentz, PTA
Address
Seattle
9501 Fifth Ave NE
Seattle, WA 98115
Phone: 206-522-7141
Fax: 206-522-7234
Directions